TRAINING & PROFESSIONAL DEVELOPMENT
Foothill-De Anza Community College District maintains a Police Department staffed with highly trained officers to help protect the safety and ensure security of students, staff, their property, and the property of the District.
FHDA Police Officers are committed to standards of professional excellence and are required to meet the selection and training requirements of the California Peace Officer Standards and Training Commission (POST). Our Officers have full peace officer powers anywhere in the State of California, receive the same training and carry the same authority in or near the college campuses as city police officers and county deputy sheriffs.
FHDA Police Officers have completed a series of tests and education mandated by California POST and maintain annual training to remain certified. Additionally, our officers receive various types of in-service and continuing professional training related to the specific needs of the campus on an ongoing basis.
Courses we provide to Campus Staff, Faculty and Students:
RUN - Hide - Defend

Emergency Response; ICS 100, ICS 200 and ICS 300
Training courses with Campus Administrators, Staff, and Faculty:
Principled Policing: Procedural Justice & Implicit Bias
RUN-HIDE-DEFEND Active Assailant Training
De Anza Campus: Tuesday, January 11th, 11:30 am – 1:30 pm, Campus Center, Conference A/B
Foothill Campus: Wednesday, January 12th, 11:00 am – 1:00 pm, Appreciation Hall, Bldg. 1501

"Run, Hide, Defend" training is the curriculum designed and approved by the Santa Clara County Police Chiefs Association and the Santa Clara County Office of Education. The training is intended to provide students, faculty and staff information on how to protect themselves and respond to an active assailant event. The training video below is sponsored by the State Homeland Security Grant Program.

For more information on upcoming "Run-Hide-Defend" training sessions presented by the District Police, please contact Joy Garza, FHDAPD Training and Communications Manager at garzajoy@fhda.edu.
Annual Training Metrics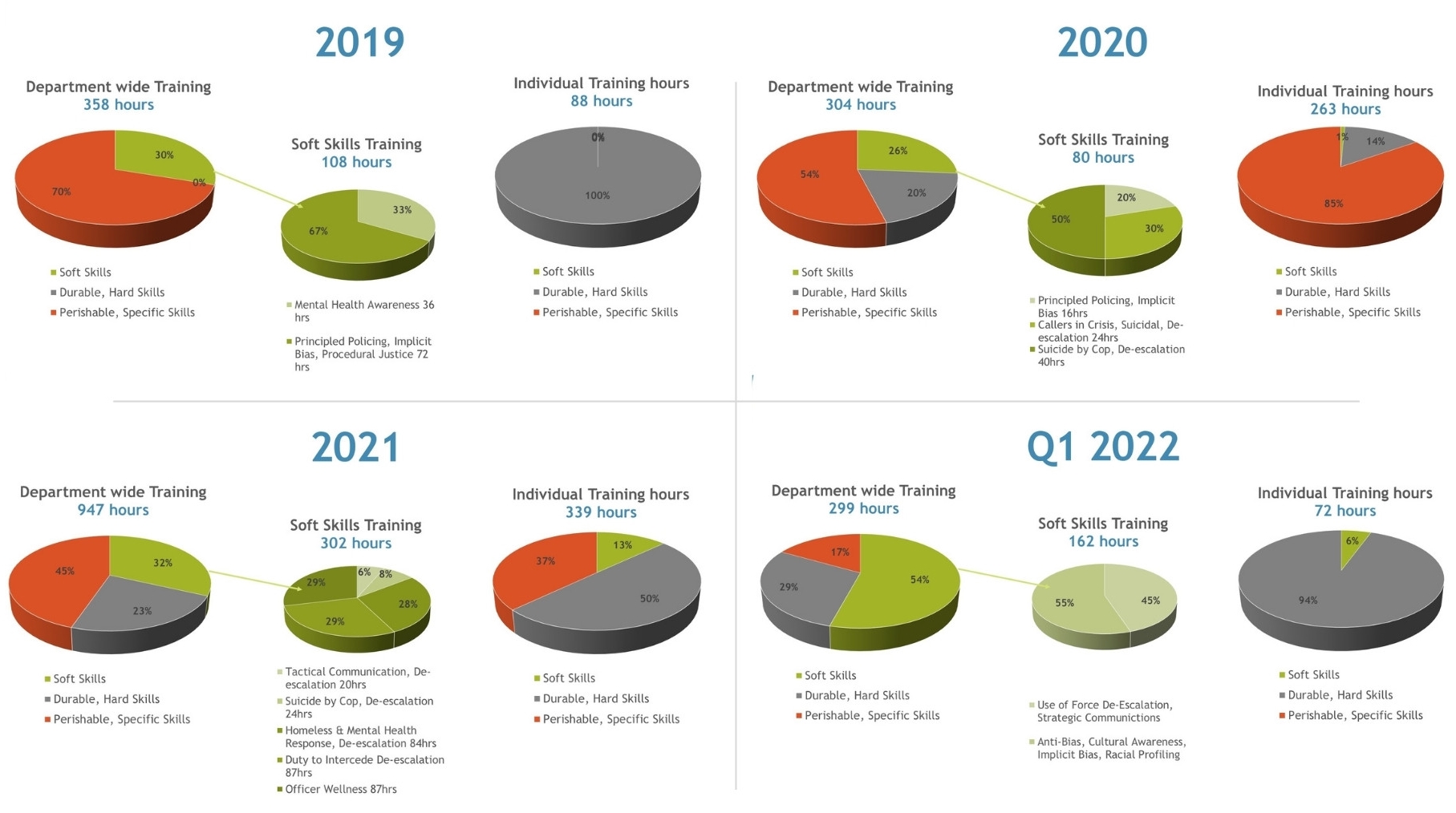 Police Department Continuing Professional Training and Perishable Skills Training examples:
De-escalation training;

Basic first aid and CPR skills;

Cultural diversity skills;

Defensive driving tactics;

DUI, fraud, and crime scene investigations;

Interviewing, fingerprinting, and photography skills;

Narcotics and narcotics user identification;

Safe firearm handling techniques;

Responding to emotionally-disturbed persons, civil disturbances, and domestic violence situations;
List of Recent Training Courses:



Reading assignment, book review and discussion Blindspot

Lexipol - New Police Policy and Procedures

EVOC

Defensive Tactics

Use of Force
For more information on training we provide and training we receive, please contact Joy Garza, FHDAPD Training and Communications Manager at garzajoy@fhda.edu.
Emergency Response Training
California requires that all of its employees, including State and local government and District, shall complete baseline training to be available for duties as a Disaster Service Worker, in the event of a local disaster that may threaten our campus's. Disaster Service Workers can be assigned a number of duties including field work. (California Government Code 3100/3101)
For more information on Emergency Response Training please vist our Emergency Preparedness, Response & Plan page.